Zilla of the Resistance:
Creepy-assed cult.

Gross.
Originally posted on Twitchy:
May we suggest taking a cold shower, followed by a thorough rinse with brain bleach?
I think I just got a love email from Barak Obama? http://t.co/a7cBq37sVG—
Matthew Kory (@mattymatty2000) August 28, 2014
Some people may go in for that sort of thing …
I know we all get them, but when Barack Obama sends me an email entitled 'I Need You' I still get a thrill.—
John McTernan (@johnmcternan) August 28, 2014
Just got an email from Barack Obama with the subject: "I need you" Low key sent a chill through my body 😍—
Sisi Nike (@MyModestMouth) August 28, 2014
ugh, i know, barry. but it's just not fair to michelle. #potus#email#secretloveaffair#obamahttp://t.co/lSbYb2PhjV—
Alexa Chiappetta (@alexachia) August 28, 2014
Just received an email from Barack Obama with the subject line "I need you." *fans self* TELL ME WHEN AND WHERE. /sorrymichelle—
Peachy Punk Angel…
View original 119 more words
Zilla of the Resistance:
Either the regime does not bother to vet individuals it hires, or worse, it does vet them and hires scumbags like that pedo creep deliberately. From the looks of the rest of the administration, I fear the truth is the latter of the two.
Originally posted on Twitchy:
According to a press release from the Department of Justice issued today, the former acting director of cyber security at the U.S. Department of Health and Human Services was convicted Tuesday of "engaging in a child exploitation enterprise, conspiracy to advertise and distribute child pornography, and accessing a computer with intent to view child pornography in connection with his membership in a child pornography website."
DOJ Press release: FORMER ACTING HHS CYBER SECURITY DIRECTOR CONVICTED
FOR ENGAGING IN CHILD PORNOGRAPHY ENTERPRISE justice.gov/opa/pr/2014/Au…—
Samuel Rubenfeld (@srubenfeld) August 26, 2014
The Department of Justice reports:
Timothy DeFoggi, 56, formerly of Germantown, Maryland, is the sixth individual to be convicted as part of an ongoing investigation targeting three child pornography websites. The three websites were run by a single administrator, who has since been convicted in the District of Nebraska of engaging in a child exploitation enterprise in connection with his administration of the…
View original 105 more words
Zilla of the Resistance:
Libya is all effed up because Obama effed it up by aiding and arming the freaking JIHADIS, as I explained 3 and a half years ago:

http://politizilla.blogspot.com/2011/04/libyan-lunacy-linkaround.html

Obama wants Muslim Brotherhood and ISIS/ISIL types running roughshod all over the Middle East, Africa, and soon to Europe and the rest of the West because those are HIS people, as evidence by his repeatedly taking their side over the non-jihadis every single time there is a conflict. It has been very obvious to those of us who have been paying attention for years now:

http://politizilla.blogspot.com/2011/07/obama-taliban-and-muslim-brotherhood-vs.html

Too bad nobody paid attention to us.

The Egyptian people rejected Obama's Muslim Brothers, and they should ignore any bleating from Obama now because he does not have anyone's best interest at heart except for his own and his violent totalitarian Muslim Brothers who he keeps giving weapons, aid and comfort to.
Originally posted on BUNKERVILLE | God, Guns and Guts Comrades!:
It took two foreign sources to demonstrate this inane U.S. policy in Libya. First we have the fall of Tripoli. Of course to these animal primitives Islamic whatever. Obama was determined for the Muslim Brotherhood come into power. But it now gets worse. We do nothing. So UAE and Egypt take it upon themselves to try to rid Libya of these terrorists because they are bright enough to figure out they are coming their way next and wait, don't we want the advancement of ISIS to stop? So pick up the next story  in which the U.S. and Europe condemns "outside interference". Try and make sense of this one. Was it because Lurch was not told or involved?
UAE and Egypt behind bombing raids against Libyan militias, say US officials
US officials have claimed the United Arab Emirates and Egypt were behind several air strikes on Islamist militias in Libya
View original 361 more words
Zilla of the Resistance:
The people crossing our border illegally are not "immigrants", they are INVADERS and they should be treated accordingly.
Originally posted on Asylum Watch:
View original 168 more words
Zilla of the Resistance:
I suspect this is how it played out in all the states that signed on to the Common Core Catastrophe. All the same buzzwords and evasion techniques were used whenever I spoke to employees of my children's former school about my concerns with this destructive new "improvement" to education.
Be sure to follow Lady Liberty 1885's blog so you won't miss future installments of this important series.
Originally posted on Lady Liberty 1885:
This article  and the following installments are Guest Posts by a North Carolina Educator.
This is an important look behind the Curtain of Common Core in North Carolina.
---
The writer is a School Counselor in NC public schools. Part 1 will detail the implementation of Common Core into the School Counselor's school. Part 2 will detail Technology. Part 3 will be SIS and Part 4 will be testing.
Part 1 – The Implementation of Common Core
In 2011 our county was holding a training. You come in for 2 days over the summer, you get $100 per day, they train a group of you, that group takes the information back to their school.
I signed up, earned $200 and I learned things like:
"It's the same thing we've been doing, it's just a different name."
"It's not a curriculum, it's a set of standards."
"It's more rigorous…
View original 1,446 more words
Originally posted on The Daley Gator:
For all of the Leftists who will ignore the truth, Pat Condell has some choice words for you
I'm gonna need more anti-nausea pills.
It IS a cult, a creepy-assed crazy cult!
Zilla of the Resistance:
This is some seriously messed up stuff! Imagine the outrage if it had been leftist organizations targeted by the IRS and a Republican were President. Remember kids, in Obama's fundamentally transformed 'merica, apparently only leftists have rights.
Originally posted on The Daley Gator:
Days after IRS officials said in a sworn statement that former top agency employee Lois G. Lerner's computer memory had been wiped clean, the agency put out word to contractors Monday that it needs help to destroy at least another 3,200 hard drives.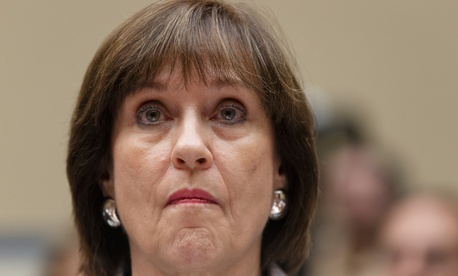 The Internal Revenue Service solicitation for "media destruction" services reflects an otherwise routine job to protect sensitive taxpayer information, but it was made while the agency's record destruction practices remain under a sharp congressional spotlight.
Congressional investigators of the IRS targeting of conservative groups have been hampered by the unexplained destruction of emails and other records of Ms. Lerner, the former head of the IRS tax-exempt division and a central figure in the scandal.
The loss of Ms. Lerner's hard drive also raised broader questions about why the tax agency never reported the missing records to the National Archives and Records Administration, as required by the Federal…
View original 568 more words
Originally posted on That Mr. G Guy's Blog:
Zilla of the Resistance:
But let's keep doing things that make human life more difficult and expensive so our ruling class overlords can pat themselves on the back for saying the politically correct things about the GoreBull warming climate change hoax.