Zilla of the Resistance:
This is some seriously messed up stuff! Imagine the outrage if it had been leftist organizations targeted by the IRS and a Republican were President. Remember kids, in Obama's fundamentally transformed 'merica, apparently only leftists have rights.
Originally posted on The Daley Gator:
Days after IRS officials said in a sworn statement that former top agency employee Lois G. Lerner's computer memory had been wiped clean, the agency put out word to contractors Monday that it needs help to destroy at least another 3,200 hard drives.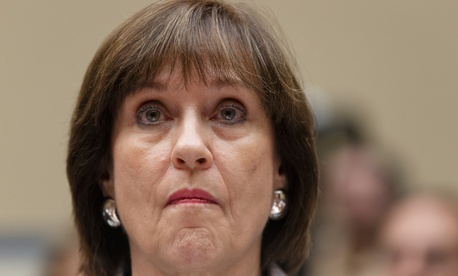 The Internal Revenue Service solicitation for "media destruction" services reflects an otherwise routine job to protect sensitive taxpayer information, but it was made while the agency's record destruction practices remain under a sharp congressional spotlight.
Congressional investigators of the IRS targeting of conservative groups have been hampered by the unexplained destruction of emails and other records of Ms. Lerner, the former head of the IRS tax-exempt division and a central figure in the scandal.
The loss of Ms. Lerner's hard drive also raised broader questions about why the tax agency never reported the missing records to the National Archives and Records Administration, as required by the Federal…
View original 568 more words
Originally posted on That Mr. G Guy's Blog:
Zilla of the Resistance:
But let's keep doing things that make human life more difficult and expensive so our ruling class overlords can pat themselves on the back for saying the politically correct things about the GoreBull warming climate change hoax.
Zilla of the Resistance:
Never mind those silly commercials that have chubby women claiming to be teachers who say Common Core is wonderful for all the children, because those commercials are just not true. I have seen first-hand how it undermines children's education by destroying kids' natural love of learning at the very time when it should be nurtured and encouraged to blossom.
Common Core hurts young children, and it is an especially nasty thing when inflicted on special needs children and children who are economically disadvantaged.
Read the whole article at Lady Liberty 1885.
Originally posted on Lady Liberty 1885:
I've stated this before - Common Core is bad for special needs and minority students. So has Dr. Gary Thompson. Let's try it again, from a teacher.
Bear in mind that this teacher is fine with the flawed and experimental standards, just not when it is applied to specific sets of kids.
Emma O. taught at a public school in Atlanta where 96% of students are economically disadvantaged for two years through the Teach for America program.

Here's what she told us via email:

Common Core is well-intentioned with its goal being that everyone graduate from high school "college and career ready." That's an important outcome. However, my students struggle with basic proficiency in many areas. Our high school's graduation rate was 43% last year — and of the kids who did graduate, they will most certainly struggle even if they do go on to college. To me, our main…
View original 596 more words
Zilla of the Resistance:
Read the whole thing at The Daley Gator.
Originally posted on The Daley Gator:
When you want to see the moral retardation of the gun control cult in all its depravity, look at Chicago. Right now, the city council and mayor are doing their level best to make sure no one can run a legitimate gun store in the city. All the while the body count from armed gangs and thugs keeps mounting, Bob Owens takes a look at this farce
Thanks to absurdly restrictive gun control laws that ensured that only criminals and cops had handguns, Chicago has long been little more than "Mogadishu on Lake Michigan." It is a bloody nightmare of a city when gunfire crackles through the air, day and night.  Is not at all uncommon for 50 or more people to be shot in the course of a weekend. Indeed, this past weekend, more than 60 people were shot, 9 of them fatally .

But Illinois Democrats have been…
View original 388 more words
Zilla of the Resistance:
If you are not afraid of the government, then you have not been paying attention.
Originally posted on The Daley Gator:
Jeff Goldstein highlights a simply unbelievable story out of the People's Republic of New Jersey that should scare the living Hell out of every American parent.
Process as punishment

A simple pencil-twirling incident landed Ethan Chaplin in hot water with his school, which threatened to suspend him after a classmate claimed he was spinning the writing utensil like a gun.

After media attention from PIX11 and around the world, school officials backed off — but child protection agencies did not.

Letters to Ethan's father, Michael, show the school found his son did nothing wrong at all, and that there would be no disciplinary action. The superintendent was even confident the issue would be behind all of them.

And that's exactly what happened, until Ethan's father received startling communication from New Jersey's Department of Child Protection and Permanency and Department of Children and Families.

"I received a letter from them…
View original 137 more words
Zilla of the Resistance:
Bob knows, he's been blogging about Grover Norquist's treasonous jihad enabling for years, as have I. Go read all of Bob's post, and also check out what I have in my old blog archives (from 2011 with links to older posts on the creep) HERE

Remember Anwar Al Awaki? It was Grover freaking Norquist who help Al Awaki get all friendly with GW Bush in the "Islam means peace" days following the islamic terror attacks that Alwaki had a hand in which slaughtered nearly 3000 of us on September 11, 2001. NEVER FUCKING FORGET IT!
Originally posted on The Camp Of The Saints:
There has rightly been a big brouhaha on the Right about this news…
From Breitbart, Tony Lee reporting, we learn:
A day after House Majority Leader Eric Cantor (R-VA) lost his primary after Dave Brat hammered him on amnesty, Sen. Rand Paul (R-KY) embraced "immigration reform" on a conference call with Michael Bloomberg's pro-amnesty group and Grover Norquist.

Paul, a potential 2016 contender, reportedly said that "amnesty is a word that's trapped us," and, according to CNN, emphasized, "If you want immigration reform, there has to be openness to compromise." Earlier on Wednesday, talk radio host Rush Limbaugh declared that when politicians in Washington say "immigration reform" what they really mean is "amnesty."

"I say everywhere I go, 'I am for immigration reform,'" Paul said, according to the Wall Street Journal.

…

Paul participated in a monthly call with Bloomberg's Partnership for a New American Economy and Norquist…
View original 239 more words
Zilla of the Resistance:
I am so sad for the world. Look at what evil being empowered by the incompetent and the ignorant has wrought.
Lord, have mercy, please.
Originally posted on The Camp Of The Saints:
I remember the spring of 1975 well.  The sick feeling I felt then has returned.
Donald Douglas has been providing wall-to-all coverage of it all over at American Power [thanks, Donald].
Feckless.  Worthless.  Dangerous.
Zilla of the Resistance:
I'm only surprised that Duncan didn't also howl "RAAAAACIST". Tyrants never seem to grasp why people might take exception to being steamrolled.
Originally posted on Lady Liberty 1885:
Over the course of the last few months, proponents of Common Core have accused the opposition of 'playing politics', turning Common Core into a 'political football' , 'being against this White House' and being 'against this President'.
All of this falls under the umbrella of politicizing the debate. This politicizing the debate on education is nothing more than a tactic employed to silence opposition. It's the last card played in this debate and others. It means the other side is desperate; they can't defend the standards. It means proponents are losing the messaging war. It's shutuppery.
It means we're winning.
White Suburban Politican Arne Duncan just flopped down the politicizing card.
U.S. Education Secretary Arne Duncan sternly admonished Oklahoma Gov. Mary Fallin for signing a bill to repeal the controversial Common Core education standards in her state.

Both Indiana and South Carolina have also opted out of the state…
View original 461 more words
Zilla of the Resistance:
Isn't TREASON still something that should be taken seriously in the United States of America and be dealt with appropriately anymore? WTF is wrong with people?

Bob Belvedere should be required reading for all Patriots. Patriots who, living under the oppressive tyranny of an insane ruling class, shall soon find themselves little option but to live as OUTLAWS.
Originally posted on The Camp Of The Saints:
The Declaration Of Independence rightly claims rightly complains that the swarms of officials unleashed on the Colonies was a Tyrannical Act:
—He has erected a multitude of New Offices, and sent hither swarms of Officers to harrass our people, and eat out their substance.
Is not the the aid and comfort being provided by the national government to the swarm/invasion of illegal aliens currently pouring across the U.S. border simply just another modern Marxist version of this kind of Despotism at work?
Or, perhaps, what we're witnessing is a modern version of the scenario presented in the novel The Camp Of The Saints?
…But for that matter you couldn't see the boats now, either. Their sides were alive, like an anthill slashed open. Using whatever they could lay their hands on—cords, cables, hawsers, worm-eaten rope ladders, loading nets lowered along the hulls—the horde was slipping down into the water. Endless…
View original 294 more words